Asset Manager
Cargile Company offers personalized real estate services to Banks, Asset Managers, Portfolio Managers, Hedge Funds, REITs, and Private Equity Firms. We have a rich background in REO disposition and have partnered with the financial community since 1982. Our Los Angeles office serves all of Los Angeles county. Our Honolulu office, opened in 2017, serves the entire island of Oahu.
Why Cargile?
We are recognized as one of the leading REO firms in Southern California. Our Broker, Paul L. Cargile is a sitting Los Angeles County Commissioner and has been featured in the Los Angeles Times, sharing his extensive knowledge of distressed properties and the foreclosure market in Los Angeles. We have built excellent relationships with the nation's top financial institutions.
Partnerships
We have a long and storied history in REO disposition. Our first REO sold in the early 1980's for Transamerica. We then worked with local clients Coast Federal Bank and Home Savings of America and added the Resolution Trust Corporation as a client, and the rest is history. Over the years, Cargile Company has worked with such prestigious financial institutions as Bank of America, Chase, Wells Fargo Bank, GMAC, PMH, Old Republic Default Servicing, Green River Capital, the U.S. Marshall Service, Altisource, Mr Cooper, as well as Keystone Asset Management.
Past and Present Clients Include: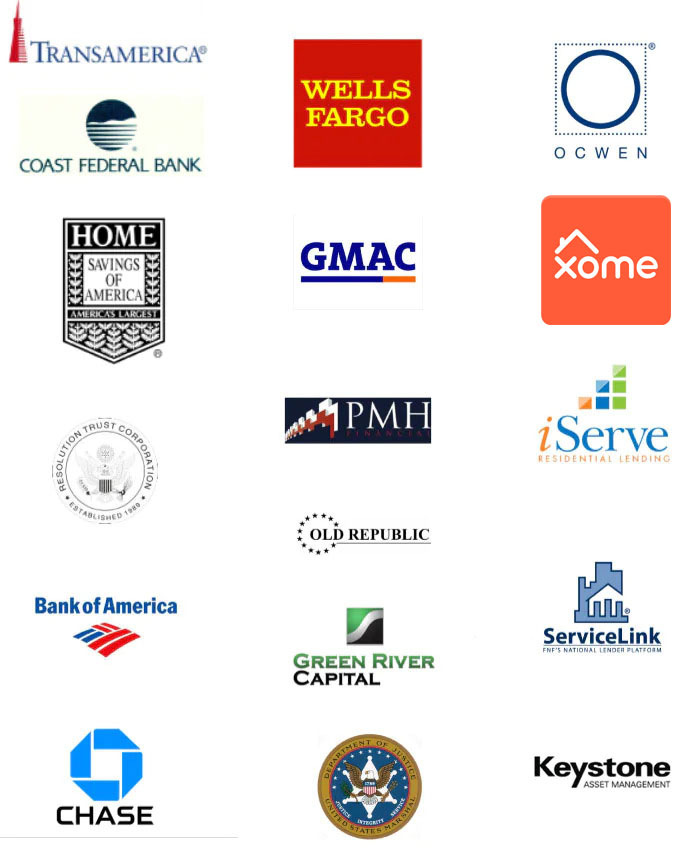 Valuations
For nearly 40 years, our real estate professionals have provided accurate valuations with quick turnaround times to our corporate clientele. In the current market, we understand margins are close and that losses can mount quickly. Our BPO's are completed in a timely and professional manner to ensure confidence in your investment and pricing decisions. We also complete Property Condition Reports for our clients.
Inspections & Repair Bids
Due to our extensive experience in REO disposition, we understand that you may not be able to list your property immediately, yet may require further information. Upon assignment, we will complete occupancy checks, interior or exterior inspections and obtain repair bids at your request.
Short Sales
At Cargile Company, we understand that you can only suggest to your homeowners whom they should list with. You want these transactions to be handled by a Company whom you can trust. The bulk of our business is done with corporate clients — we are well-versed in this area of real estate and happily extend our expertise to you.
To assign a REO listing, valuation or condition report, please complete the form below.